Elk Hunting Guide in Montana: Where and How to Harvest Your Elk
Finding and Harvesting Your Montana Elk
Elk are closely related to deer… except they're bigger, faster, and tougher. Hunting them is like hunting deer. Except the mountains are bigger, the hunts can be longer, and packing them out of the mountains is tougher.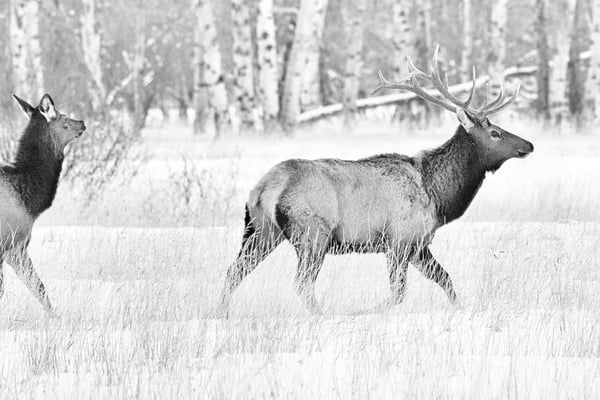 Elk spotted at Black Ranch near Bozeman, MT.
These giants can weigh in excess of a thousand pounds. Their presence commands attention and awe. When you have one on the ground, you approach with wonder as they just seem to get bigger and bigger as you come toward them.
Let's back it up first. We're getting way ahead of ourselves on the elk hunt. Before we can get to the part where we admire our quarry up close, we need to know a bit more about elk hunting in Montana: what to expect, how to hunt them, and (perhaps most importantly) we have to find the right elk units and the right land to find a herd.
All about Elk Hunting in Montana
Before we get into it, there are a few things we need to know about elk hunting that tends to be unique to these creatures. We'll break it down into three categories: elk habitat, elk behavior, and elk harvesting.
You can go all over the country: from the swamplands, to the rainforest, to the plains, to the mountains, and find deer. They have adapted to nearly every environment out there. Elk, on the other hand, tend to be more limited in the habitat they prefer.
Once they were creatures that would roam the plains in the foothills of grand mountains; now they have largely been forced farther up into higher country. While some herds stay down low, humans and wolves have moved them out of the easily accessible areas, and into more remote and rougher terrain. This geographic protection allows them to live with less pressure from predators.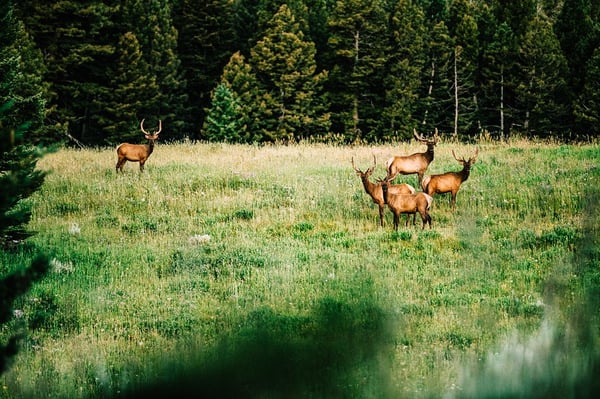 Spotted in the upper fields at Montana Cow Company along the Bridger Range in Montana.
They have not, however, let their guard down. Keen eyesight and exemplary hearing often mean they will spot you before you spot them. That leads to many hunters catching the tail end of the herd as it disappears up and over a mountain; a mountain that the animal crossed in a couple of minutes and will take well over an hour for a two-legged human to summit.
Finally, when you do have a successful hunt, it's time to pack the animal out. If you're lucky, there will be a road nearby, or a kind rancher will lend the use of his horse or ATV. But usually it means taking the animal apart into quarters and carrying it out on your back.
Up for the challenge? Let's find out the best places to hunt elk in Montana.
Discovering the Best Elk Units in Montana
Montana is divided into seven regions. Each of those regions is further divided into units, or districts. Every district has specific rules and regulations on whether you can hunt cow or bull, or if you need a special permit to harvest a particular animal. For example, in district 590 (each district has 3 digits; the first digit represents the region) a general elk tag allows you to harvest only a cow elk. If you want to shoot a bull elk in this area you must draw a special permit.
Other districts are divided further depending on your location relative to a stream, river, or road.
Now that you're thoroughly confused, we'll take a look at a few of the best hunting units around the state. Then get into a brief introduction to what you need to be aware of if you're venturing out on your quest to harvest the great wapiti.
In the western part of the state, Regions 1, 2, 3, and about half of Region 4 are mountainous, wooded, and contain a whole lot of elk; some roaming in herds that number into the hundreds. There are so many elk on this side of the state that on most years about half of the elk harvest in Montana comes just from Region 3.
Black Ranch | Reeseplace - based in the Gallatin Gateway surrounded by the Spanish Peaks.
Some of the best elk hunting units in Montana are in these regions. And many of them are open to either sex elk, or designated as "brow-tined bull or antlerless elk" (we'll get into what that means soon).
Moving to the east through the state, the herds become less dense and farther apart. But that doesn't mean you won't find amazing animals. As these elk herds thin out, however, it's important to know that some units limit when you can hunt, and which sex you can hunt. Some, like those in the Missouri River Breaks, are open to elk hunting by permit only.
Now we get down to it. How do you find the best elk hunting units in Montana?
You have to narrow it down using three different factors.
Habitat – Western Montana has more elk because the mountainous habitat is where they thrive. Some areas can have incredibly difficult terrain.
Black Ranch | Reeseplace - Gallatin Gateway, MT.
Permit Needed – A general elk tag is easy to buy over-the-counter, for residents. Non-residents must apply by April 1st for their tags. Permits (for resident and non-resident hunters) also have an application deadline of April 1st; the probability of drawing a special permit varies from less than 1% success up to 99% success. Can you hunt elk in Montana without a special permit? In many areas, you can. But some of those areas you need this permit if you want to hunt a bull in your chosen unit.
Land Access – National Forests are open to the public, and anyone can hunt there. But when anyone can hunt there, it means a lot of people do hunt there. Finding the best private land to hunt on, however, isn't difficult.
Finding a Montana Ranch to Hunt On
With over 20 landowners currently offering their property on LandTrust, you have numerous options as you plan your Montana elk hunt. Some of these properties are located in hunting units that are special permit only, while others allow harvest of a cow or bull elk with a general elk tag.
Tobin Creek Ranch – Located in Region 3, and district 315, the Tobin Creek Ranch has access to over 1,000 acres of prime elk hunting land. It also backs up to several hundred acres of state land to further expand your hunt-able terrain.
An elk herd far off in the distant fields on Tobin Creek Ranch.
Hunting unit 315 is listed as brow-tined bull or antlerless elk, meaning that your general elk hunting tag allows you to harvest any bull elk with antlers containing 3 or more points (per side), or a cow elk. The only ones that are off-limits are the young bulls that are merely spikes, or forked antler bulls.
With stretches of wide-open fields, split by wooded draws, your hunt can be challenging and exciting as you find a way to stalk in close enough for a clean shot on your Montana elk.
LO Ranch – Heading toward Northwest Montana, the mountains give way. But to call the land flat in this area of the state would be a mistake. Despite the lack of towering peaks, the rugged terrain can be just as impressive and contain enormous herds of elk.
The LO Ranch straddles two units: 700 and 701, with the bulk of the ranch in the northerly 700 district. This district pushes close to the Missouri Breaks, an area rumored to contain the largest bull elk and buck deer to have ever walked the state. It's also a difficult area to draw a tag, as success rates dip below 1% for non-resident hunters.
Private elk hunting near Missouri Breaks in Montana at the LO Cattle Ranch.
Just south, into the 701, the herds thin out, but the tags are easier to come by. A general tag allows you to hunt either sex elk (this is one of those convoluted units; there is a section of the unit that doesn't allow bull elk to be harvested, but this is off the LO Ranch property that holds the Montana elk hunting lease).
Two vastly different properties. Both with unique opportunities to fulfill your dreams of an incredible Montana elk hunt.
Elk Hunting Tips
Hunting elk in Montana is an exciting experience. And it can go south really quickly if you're not fully prepared for what to do. A seasoned hunter must know the basics, but there are a few things to keep in mind before you hit the road to find your bull elk.
This is grizzly country. Some of the hunting units in Montana are home to the highest density of grizzly bears in the lower 48 states. These bears know about hunters, and they know that a dead elk is an easy meal for them. Be prepared, never hunt alone, and carry bear spray.
Elk hunting terminology is confusing. When you review the regulations, you're going to get into a lot of numbers, letters, and often straight-up confusing terms. Knowing the terms and their meaning is your responsibility, so be sure to study the difference between an antlerless elk (cow or young bull that doesn't have antlers), a spike (a young bull that has a single tine sticking straight up), a forked bull (a young bull that has 2 tines on its antler), brow-tined (a bull that has at least 3 tines, one of which protrudes above the brow and is at least 4 inches long; no need for a tape measure, it's rare to see a brow tine that's smaller than 4 inches).
The weather is wild in the mountains. It can be t-shirt weather one day, with the night dipping below zero and a snowstorm moving in. It can be single-digit temperatures, and you'll get the worst sunburn of your life if you don't cover up. Prepare yourself for all sorts of weather.
Elk herd in a snowstorm at Black Ranch | Reeseplace - Gallatin Gateway, MT.
Elk spook just as easily as other game. Know your rifle, know your shot. A wounded elk can travel for miles and miles before succumbing to its wound. A well-placed shot means less work for you, and less stress for a dying animal.
Montana loves hunting. Don't be afraid to ask the locals for pointers, tips, tricks, and what they think of going on an elk hunt.
The Preparation, the Hunt, the Trip Out
The biggest tip when hunting elk in Montana: enjoy your time.
Bask in the beauty of the mountains. Enjoy the sound of the rivers and streams. Marvel at the big sky. Take it all in as you pursue these majestic beasts. Because as soon as you pull that trigger, and your elk goes down, that's when the work sets in.
Some areas might have drive-in access. In others you might be a few miles from the nearest road. If you can't get close, there's no way you can drag an elk out the same way you would a deer or antelope.
Instead, it's a matter of quartering it, removing as much meat as possible, throwing it into a game pack, and hiking out with hundreds of pounds of wild game on your back, and then going back for a second trip.
It's work. But it's satisfying to do that work in a place called Montana.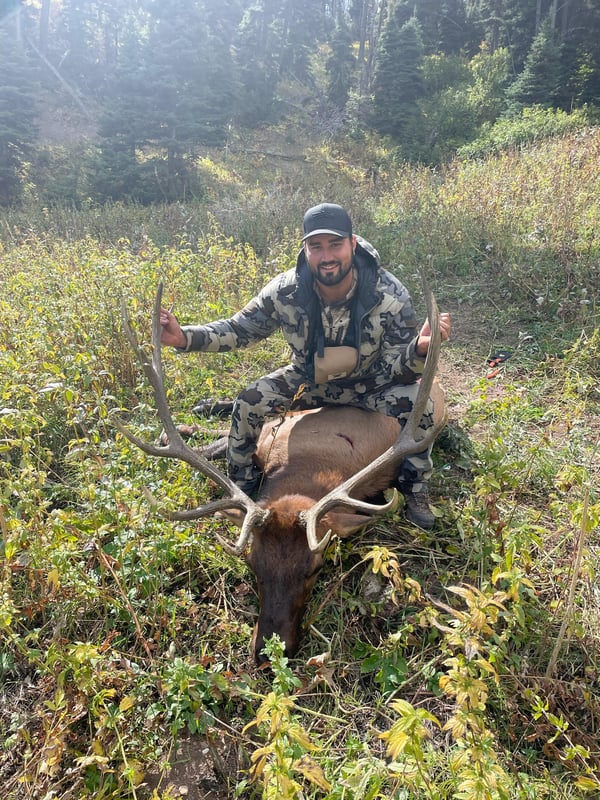 LandTrust sportsman, CJ Randazzo, with a successful elk hunt at Montana Cow Company last fall.
---
Trusted services
LandTrust helps make sharing easy, enjoyable, and safe. We verify personal profiles and listings, maintain a smart messaging system so Landowners and Recreators can communicate with certainty, and manage a trusted platform to collect and transfer payment.