A LandTrust Birding Experience
Through LandTrust, birders are now able to access some of the most biodiverse lands in the country. For example, Nebraska is part of the Central Flyway that provides habitat for 10's of millions of migratory birds every year. The shallow wetlands of the western Sandhills present a playground for an abundance of avian wildlife, with bird populations exploding across the remote country fields. LandTrust's recreation access network includes many new listings in this diverse Nebraska region, opening access to over 160,000 acres of private land that are humming with bird calls.
Last month, Nolan Bunting went out to the Lovejoy Ranch located just outside of Valentine, NE. He and his friend Christian explored the diverse habitats found on the ranch and saw 43 different species of birds.
"I thought the Lovejoy Ranch was fantastic!"
Nolan explains that he was expecting to see a good quantity of birds because private lands often host greater bird species than public lands. However, he was really surprised with just how many species he did see! Considering Nolan and Christian visited Lovejoy Ranch in the summer, which is typically the off-season when birds aren't migrating, they were blown away by the biodiversity they found. "You don't often get to see Black Turn Rookeries and Sharp Tailed Grouse with chicks running around, that was a rare sighting for us."
Nolan admits that he's been birding in some pretty crazy spots to expand his life list, traveling the world to places such as southern Texas, Trinidad and Tobago, and even South Africa. He says he hit his record of 149 species in five hours while in Trinidad, but points out that he was in a tropical forest so the expectations were slightly different. With that experience, Nolan was still very impressed with his experience at the Lovejoy Ranch. For a North American birding trip in Nebraska it had a great quantity of biodiversity of species and also showed off many different environments like wetlands, grasslands and agricultural landscape. The property had a little wooden forest so they even got to see a number of woodland birds too.
"This experience is a lot more individualistic. We really were able to enjoy the peace and quiet on the ranch."
Nolan explains that the beauty in birding is that it can be done anywhere. He has been birdwatching from dumpster while seeking out a particular type of seagull, climbed 14er's in Colorado to observe tarnagains breeding, been in the middle of the ocean searching for one particular bird that originates from a tiny island and even spotted a few rare species in the center of old town Fort Collins, CO. Birding can happen anywhere! However, Nolan recognizes the advantages to birding on private land. "One of the things about private lands is that they aren't birded as often so it's a mystery for all us birders even if you're in a location that's very similar to what you're used to. You're always looking in wondering 'Hmmm, I wonder what's actually in there.'"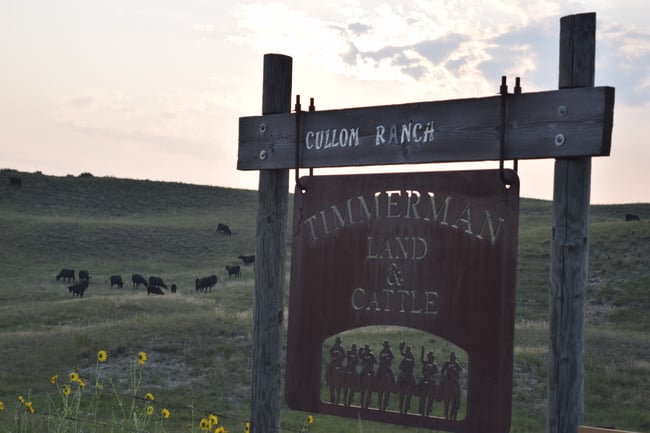 What's beyond the gate at the Cullom Ranch?
Nolan says that the nicest part about birding on private land is that they had the entire area to observe nature in solitude. Nolan and Christian could observe animal's behavior better in many ways because they were not running into other people who were disrupting the wildlife. Without the heavily trafficked trails or people walking their dogs, which is frequently found on public land, there were many more opportunities available on the private ranch. The system has never been revitalized to conform to high traffic volume from humans.
"I think this is the coolest idea ever!" Nolan exclaims about LandTrust's birding opportunities. He is really excited about the future of birding and can't wait to see where it goes with the access network from LandTrust. He is hoping that listings will soon include a bird list so other birders can have some insight as to what they might see on the land. He also believes that many ranchers and farmers could increase their birding experiences through simple additions such as birdfeeders. "I had a friend sit in front of my bird feeder for four hours once, just in the hopes that he might see a rare bird that I had noticed before." Nolan also points out that the birdfeeders could be a great resource for wildlife photographers who want to sit and access prime bird watching. In addition, providing a bird or hunting blind that's around year-round could really add quality to the private land. Photographers are just like duck hunters in that way; they are always looking for wildlife but need to be hidden.

LandTrust is looking forward to growing the birding opportunities on the ranches and farms we work with. We see this access as an incredible resource for landowners to allow non-consumptive recreation throughout the year. Nolan states that he is appreciative of the relationships he has already been able to form with Landowners through LandTrust. He notes how nice it is for birders to meet up with the owner, in person, or over the phone to know where things are on the property and where the highlights of the ranch might be; as well as learn more about the families who have, in many cases, lived multiple generations on the land. As a birder, he is excited to hear, firsthand, where birds are frequently spotted, the quantity of birds, where a particular wetland is that their LandTrust listing describes, etc.
Nolan looks at LandTrust as a great opportunity for the promotion of birding and natural areas for landowners. He notes that a lot of the lands that could be and already are amazing for birds and wildlife observation are on private lands, but the problem is that they are not accessible to recreationists. Having access to these lands allows people to learn more about the natural world and the best ways to protect it.
"Conservation is talked about as a group effort, but at the end of the day it's done by individuals who care about the world around them and then find others to work with them. LandTrust embodies what birders and landowners can do together for the world to make it last for as long as possible."

Trusted services
LandTrust helps make sharing easy, enjoyable, and safe. We verify personal profiles and listings, maintain a smart messaging system so Landowners and Recreators can communicate with certainty, and manage a trusted platform to collect and transfer payments.