Be Your Own Kansas Turkey Hunting Guide - Even If Its Your First Time
The best person to guide you afield isn't someone else. It's you.
By: Josh Honeycutt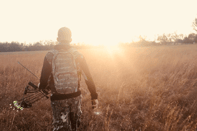 Ask some hunters who the best Kansas turkey hunting guide is, and they'll likely rattle off some outfitter. There's no doubt they would likely do a fine job. They might even help you fill a turkey tag. But those who plan to be a turkey hunter for the long haul should consider investing in themselves. A great way to do that is to find a recreational property on which to spread your wings.
Fortunately, Kansas is home to some of the best turkey hunting in the nation. Here, you'll find a flock that's about 300,000 strong. Two different species culminate to create it, including Rio Grande turkeys in western counties, Eastern turkeys in eastern counties, and hybrid birds in the central part of the state.
Jackson County Honey Hole, 75 acres - Delia, KS
While about 50,000 turkey hunters seems high, it isn't. Sure, that figure can translate to a good bit of pressure, but the hunter-to-turkey ratio is approximately 1:6, which is good. According to Realtree's Turkey Hunting Nation, hunters bagged 17,000 birds during the 2021 season. That's a solid figure, too. Plus, if you secure exclusive private land access, you're in for even better odds. This year, hunters have until May 31 to participate in the regular season.
Several reasons Kansas turkey hunters should be their own guide in the timber, include:
Additional focus on hunting skills development.
A bigger need to improve as a hunter.
A greater desire for a challenge.
Exclusive access to less-pressured hunting grounds.
More time to focus on hunting.
For those who plan to guide themselves, it's even more important to study up on Kansas turkey hunting regulations. According to eRegulations, some of these include:
A valid hunting license is required in addition to a permit or game tag.

Hunters who possess a turkey permit and turkey game tag may fill both in a single day.

Dogs may not be used during the spring season. This is only permitted during fall seasons.

Turkeys may not be shot while roosted in trees. They may only be taken while in flight or on the ground.
Turkey permits and game tags are only valid in the areas designated on the permit or tags.
Permits must be signed prior to hunting.
Carcass tags must be signed, dated, and attached to the leg before the animal is moved from the harvest site.
Legal ammo includes shot sizes ranging from No. 2-9.
Broadheads must be greater than ¾ of an inch when fully expanded.
Longbows, recurve bows, compound bows, and crossbows are permitted.

Electronic devices that control the flight of an arrow are not permitted.

Electronic objects permitted on bows and arrows include draw-lock devices, lighted pins, illuminated nocks, sights, rangefinders, radio-frequency location devices, video cameras, etc.

Turkeys can be checked in online.
Once you're ready to enjoy what Kansas has to offer, be sure to check out some of the available properties that are exclusive to LandTrust. Find the perfect hunting spot for you.
Mill Creek Valley Hunting: 315 acres - Maple Hill, KS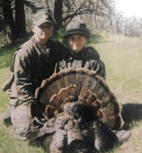 Mill Creek runs bank to bank year-round through the property. The land features 180 acres of shelter with heavy wooded timber with chestnut, oak, walnut and hickory trees, as well as plum thicket. There are seven tilled grain fields, native grassland, hills, draws and natural brush, giving secure bedding.
Mathes Farms: 450 acres - Bartlett, KS

Farm acreage is surrounded by tree lines and grassy areas perfect for wildlife. The property is in Unit 6 for turkey. Kansas residents and non-residents can purchase a turkey permit over the counter.
Bellar Enterprises: 300 acres - Mound Valley, KS
The property is a prime destination for whitetail and turkey. Quail and Doves hunts are also an option; however, please inquire with landowner prior to booking to ensure your hunt does not interfere with early archery season for deer. The property is in Unit 6 for turkey. Kansas residents and non-residents can purchase a turkey permit over the counter.
Trusted services
LandTrust helps make sharing easy, enjoyable, and safe. We verify personal profiles and listings, maintain a smart messaging system so Landowners and Recreators can communicate with certainty, and manage a trusted platform to collect and transfer payments.