Upgrade Your Summer RV Adventure in Montana!
LandTrust Now Offers RV Camping
There's nothing quite like Montana summer: days that seem to stretch on forever, outdoor adventure beckoning around every bend, and, of course, those famous big skies.
What's on your Montana bucket list? Whether you dream of floating down the river or kicking up your heels at a concert, there's something for everyone.
The good news is that summer is here. The bad news? It's going fast. If you are ready to visit Montana for yourself, it's time to reserve your authentic Big Sky Country overnight experience from LandTrust, now open for RVers.
Visit Senecal Ranch near Ronan, MT.
Benefits of RVing
RVing has become a favorite way to travel for adventurers of all ages. Nearly half of all likely travelers say they plan on taking a road trip or vacation in an RV during the next 12 months, including a whopping 70% of Millennials.
And for good reason: RVing helps you reconnect with friends and family while traveling at your own pace. RVing is convenient: you can bring your home — and even your pets! — with you on the go. It's also the perfect safe travel solution, allowing you to cook your own food and avoid those dreaded rest stop bathrooms. And there's a style and size of RV for everyone.
Plan an RV trip to experience Montana as the locals do. Explore an off-the-beaten path hiking trail or try one of the state's many creative and delicious small-town restaurants. Attend a rodeo, soak in a natural hot spring, or catch some live music under the stars. The options are endless!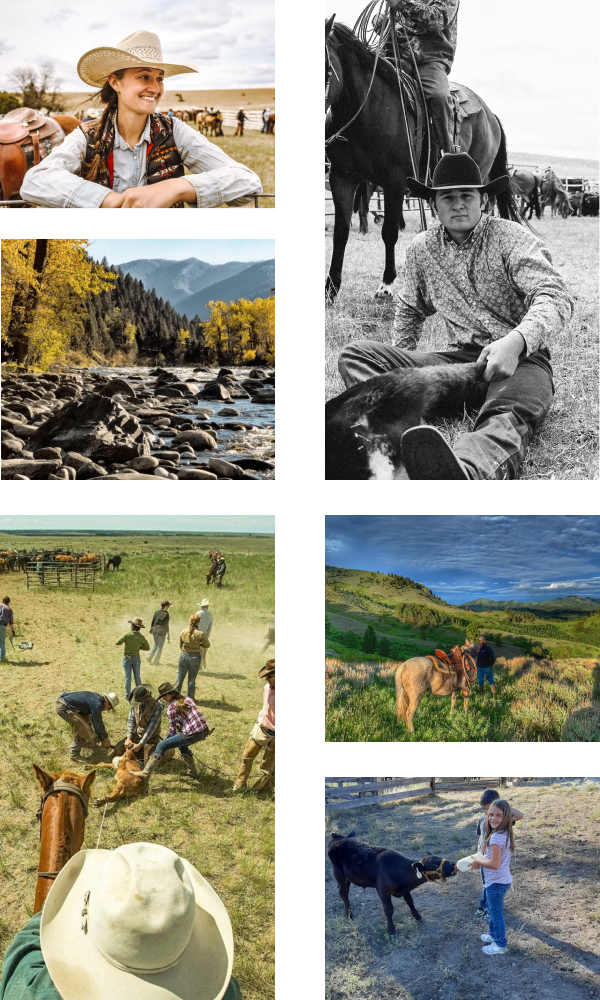 How RVing with LandTrust Works
You will need a homebase for your adventures, and camping is a great option in Montana. But with more and more RVers on the road each year, it takes a little creativity to find the best campsites. That's where LandTrust comes in.
LandTrust makes it easy to find unique, affordable, and convenient RV camping experiences in Montana. Get started by using our searchable map to check out properties all across the state that fit your interests. LandTrust currently has 82 property listings in Montana and that number is growing all the time.
We make it easy to check with landowners before booking to make sure they can accommodate your needs, from road accessibility to cell service availability. Some properties are pet friendly and fit all sizes of rigs. Most properties do not have electric or water hookups, so be prepared for dry camping. (Read: get ready for some serious peace and quiet under the stars.)
After booking, LandTrust will automatically send you directions from the host and make sure you have everything you need to experience Big Sky Country at its best. Here's what outdoor enthusiasts who have used LandTrust say about the experience:
RVing with LandTrust is not as expensive as you might think. Many landowners offer RV camping starting at $50/night, with the option to book other activities on the property for an additional fee. LandTrust's online platform helps make booking easy, enjoyable, and safe.
Learn how to ride like a cowboy at Little Belt Cattle Company.
RVing Without The Crowds
You're not coming to Big Sky Country for the crowds. But it's no secret that Montana is a popular road trip destination during the summer months. Yellowstone National Park broke visitation records in 2021 — for the first time, exceeding one million visits in a single month.
With so many travelers seeking to experience America's Best Idea firsthand, campgrounds near national parks can fill up a year in advance… or get very, very expensive. Don't settle for "camping" in a Walmart parking lot. Book a place on a working Montana ranch instead and make your overnight an authentic Montana experience, too.
Upgrading Your Summer Adventure
LandTrust's landowners offer more than just a place to park. As a bonus, many properties offer other fun activities, including: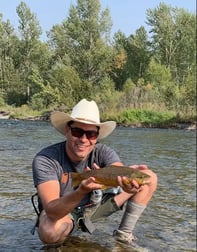 Of course, this doesn't include the many attractions located near LandTrust properties. For example, from your RV home base at the Black Ranch in Gallatin Gateway, Montana, you can:
Stroll downtown Bozeman's shops and restaurants or check out live music at Stacey's Old Faithful Bar & Steakhouse or The Jump in Gallatin Gateway.
Drive 90 minutes to the West Yellowstone entrance of Yellowstone National Park, which provides the easiest access to the park's famous thermal features like Old Faithful.
Visit several nearby state parks, including Lewis & Clark Caverns, Missouri Headwaters State Park, and Madison Buffalo Jump State Park.
Explore Big Sky, Montana in the off season — an epic destination any time of year — with whitewater rafting on the Gallatin River, hiking, and special summer events.
Enjoy bird watching and fishing on the property.
Explore everything Black Ranch has to offer!
RVing gets you closer to the outdoor destinations in Montana that you want to experience. And you can feel good booking with LandTrust because you are supporting Montanans who take good care of their working lands.
Ready To Get Started RVing?
Now is the time to book your authentic Montana experience under the Big Sky. Your summer Montana adventure starts with LandTrust.
Don't have an RV of your own yet? LandTrust partner RVshare is the first and largest peer-to-peer RV rental marketplace, with more than 100,000 vehicles ranging from affordable travel trailers to luxury motorhomes that can accommodate any outdoor adventure.
---
Trusted services
LandTrust helps make sharing easy, enjoyable, and safe. We verify personal profiles and listings, maintain a smart messaging system so Landowners and Recreators can communicate with certainty, and manage a trusted platform to collect and transfer payments.